This chapter is focused on the first of the four identified theoretical constructs for behaviors: Information Processing Theories (IPT).  Behavioral categories emanating from IPT are the result of impairment in the functioning of information processing pathways. Such impairments can be a consequence of dysregulation of normal physiology, as is the case in delirium, or structural decline, as is the case in cognitive impairments.  In order to understand the implications of the impairment in information processing pathways on the generation of behaviors, it is imperative to understand the role of these pathways in individuals with normal cognitive function.
Steps Involved in Information Processing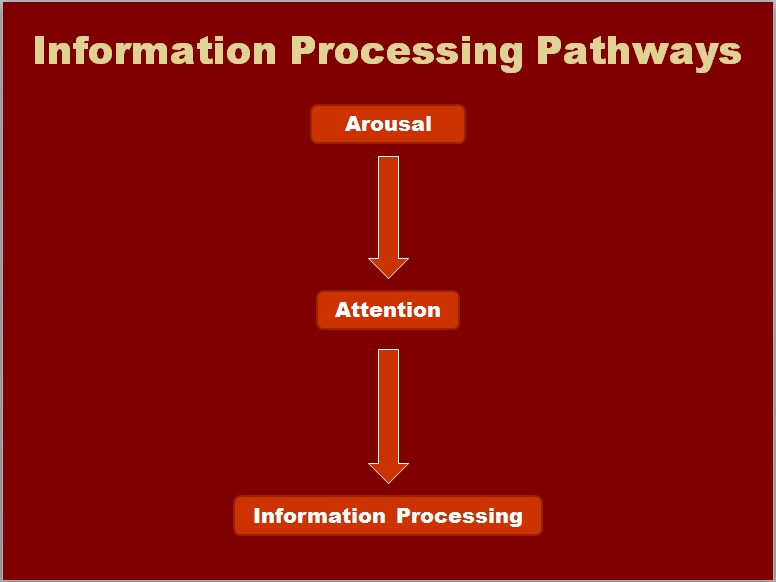 I. Arousal
Defined as a state of wakefulness during which an individual is able to react to a stimulus 1, arousal incorporates both physiological and psychological domains. It regulates consciousness, attention and information processing.
II. Attention
Attention is the factor that determines which mental representations of information are processed into memories, and how fast it is processed 2.
III. Information Processing
Used to describe the basis of cognition, information processing goes through five stages: input, sensory memory, short-term memory, long-term memory and output. Memory is used to store and retrieve information, and the flow of this information goes two ways. Bottom-up processing pulls information from an external stimulus to higher-order cognitive processes and occurs automatically in our subconscious. Top-down processing uses higher-order cognitive processes to give meaning to things in our environment and requires selective, voluntary attention.
Bottom-Up Processing:  Reading a poem for the first time.

Top-Down Processing: Reading someone else's writing and identifying illegible words in the sentence.
Yerkes-Dodson Law
According to the Yerkes-Dodson Law, there is an intimate relationship between arousal, attention, information processing, and task performance 3.
↓ Arousal = ↓ Attention = ↓ Information Processing Speed = Lethargic state
↑ Arousal = ↑ Attention = ↑ Information Processing Speed = Distractible state
Information Processing and Pathological States
The neuronal circuitry responsible for information processing can be found intertwined in the integral components of our cerebral and association cortices. This circuitry is referred to as the Information Processing Module (IPM) and it is responsible for our cognitive functioning.
When cognitive impairment progresses in dementia/neurocognitive disorder (D/NCD), our IPM becomes impacted. Intellectual function, cognitive schema, cognitive perception, emotions and behaviors will change.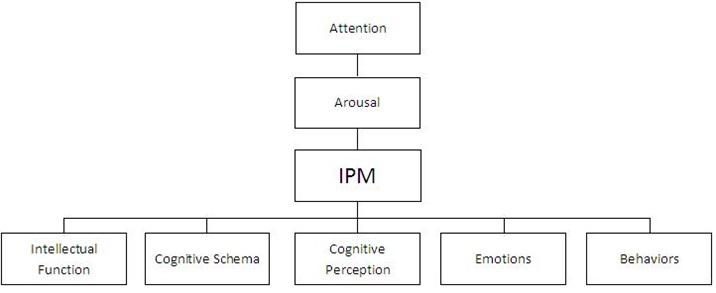 Severity of IPM impairment is determined by the severity and type of D/NCD.  In the moderate to advanced cases, impairment in working memories will result in generation of distorted cognitive schema and perceptions.   These distorted schema and perceptions determine the subsequent generation of emotions and behavior, which will ultimately manifest as behaviors of the disorganized and misidentification type. 
1. Thayer, R. E. (1989). The biopsychology of mood and arousal. In (Ed.), Arousal: A basic element for mood and behavior. pp. 46 – 66. Oxford: University Press on Demand.
2. Siegel, D. J. (2001). Memory: an overview, with emphasis on developmental, interpersonal, and neurobiological aspects. Journal of the American Academy of Child Adolescent & Psychiatry, 40, 997-1011.
3. Yerkes, R.M., & Dodson, J.D. (1908). The relationship of strength of stimulus to rapidity of habit formation. Journal of Comparative Neurology and Psychology, 18, 459-482.